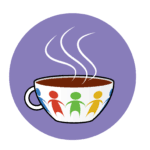 We welcome everyone to Our Community Cup Coffeehouse! It's a great place for people with all kinds of abilities and disabilities to have fun, enjoy music and make friends. We meet every Friday evening. We'd love to have you join us!
Since we are still in the COVID pandemic, a few precautions are in place to keep everyone safe.
Here's what to expect each week:
Pre-registrations are helpful so we know how many people are coming. Please email Kate McShane at

[email protected]

and let her know you're coming!

Masks are required for all guests and volunteers. Vaccinations are strongly recommended except for those who can't receive them for medical reasons.

Doors open at 6 p.m. each week. Activities begin at 6:30. Music begins at 7:15.

Hot and cold drinks and a light snack will be served each week.

Coloring pages and card games are always available for those who like to keep busy!
Here's the schedule of events for the next couple of months:
he schedule of events is as follows:
Friday, Oct. 22 – Pumpkin Decorating, music by Christopher J. Macy

SATURDAY, October 30 – 1-5 p.m. – SHARE THE LOVE FEST  Click Here for Full Schedule

Friday, November 5 – November birthdays/ Wheel of Fortune (Made by Kate) , music Wayne Harvey

Friday, November 12 –  Karaoke,  music by David Falcone

Friday, November 19 –  Thanksgiving Celebration  Snack Smorgasbord/ Hand Turkeys as craft, music by Lonely at the Top

Friday, November 26 – NO COMMUNITY CUP – THANKSGIVING HOLIDAY

Friday, December 3 – December birthdays – Making Christmas Decorations   – State Street Miracles

Friday, December 10  – Holiday Bingo   music by Eric Rapp

Friday, December 17  – All Star Christmas Pageant – Christmas Cookies & hot chocolate  music by Savior Soul