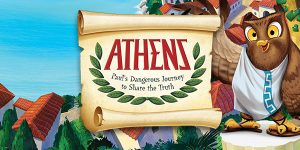 ATHENS ADVENTURE VACATION BIBLE SCHOOL 
July 15-20   6:30-8:30 p.m.
Ages 4 – Grade 5
Travel back in time in Vacation Bible School this year as we visit the Marketplace in Ancient Athens. We'll visit the various shops in the marketplace throughout the week, meeting the shopkeepers,  and learning their crafts, including the carpenter, potter, scribe and toymaker.  Each day, we'll also visit with the Apostle Paul and hear about his amazing adventures as he shared the life-changing good news about Jesus.   This will be a different and fun vacation Bible school, with something for all ages and abilities of kids. To register, please go to (insert link). Registrations also accepted the first day of VBS.  Older kids are welcome to join us as apprentices.  If there is a youth in your family who would like to help out, please email us at treeoflifepc.org.
Register On-line:
or
Click and mail in our registration form  VBS Registration Form